Your Local Montgomery, Frederick, Howard County & Carroll County Electricians
Congratulations on purchasing your new electric vehicle! Now that you've joined the ranks of smart, environmentally conscious consumers, you're ready to enjoy your electric car to the fullest. This means installing an EV charging station in your Gaithersburg-area home.
While many businesses around Montgomery and Frederick counties have installed EV charging stations for public use, you can't always count on having space availability or having enough time to wait for your car to recharge. Having an EV charging station in your garage is by far the most convenient option for electric car owners.
Contact GAC Services to learn more about EV charging or to schedule installation in your Maryland home. We provide EV charging services in Montgomery, Frederick, and Howard counties, MD.
What You Need To Charge Your Electric Car at Home
Different EV chargers are available today, but they're not all created equal. Consider your options to help you decide what will work best for you.
A Level 1 charger should have come with your electric vehicle. This doesn't require any electrical work — simply plug the charger into a regular 120-volt wall outlet, and you're all set. Many EV owners start here because it allows you to drive and recharge your new car without any additional investment. However, a Level 1 charger takes around 18 hours to replenish an EV battery, which is the biggest drawback to this option.
A Level 2 charger uses 240 volts of electricity to charge your EV in as little as three hours. This gives you the flexibility to top off the battery after work before you head out for a night on the town. If you opt for a Level 2 charger, you'll need an experienced, licensed electrician to install a dedicated circuit, much like the one your electric dryer or oven uses.
A Level 3 charger, or DC Fast Charger, is usually reserved for commercial, industrial, and roadside settings because they require powerful, specialized equipment to charge vehicles to about 80% in just 30 minutes. As a result, Level 3 chargers aren't available for home installation.
EV Charging Installation Services
Installing a Level 2 charger is the best option for most electric car owners. It provides the perfect balance between cost and charging speed to ensure no inconvenience from owning an EV.
When you choose GAC Services to perform your EV charging station installation, we'll help you make the best, most cost-effective choice for your needs. Here are some factors to consider:
Installation type: EV chargers can be mobile or permanent. Mobile chargers have interchangeable adaptors that allow you to plug into different 120- and 240-volt outlets on the go. Permanent chargers mount to a wall or post and can be installed indoors or outdoors. If you don't have a garage, you can install an EV charger in the driveway. Just make sure you select one designed to withstand water, temperature fluctuations, and debris.
Amperage: Choose from a 16- or 30-amp charger to meet your needs. Sixteen amps is plenty for one EV, but you may want to install a 30-amp charger for future-proofing in case you purchase a second electric car.
Cord length: The proximity of the charger to the car's charge port determines how long the cord must be.
Existing electrical service: If your home has old wiring, you may need to upgrade it as part of the installation.
Call GAC Services for EV Charging Station Installation in Maryland
The licensed, certified electricians at GAC Services are knowledgeable regarding local electrical codes that dictate where EV chargers can be installed and what kind of wiring is required. We'll obtain any necessary permits and arrange a city or county inspection if needed. Let us handle your EV charging installation so you can focus on enjoying your new electric car!
Contact GAC Services for a garage carport (plug-in for electric cars) installation estimate or to schedule services today.
EV Charging Station FAQs
Is it worth installing a home charging unit for electric vehicles?
If you have a short commute and the 120-volt Level 1 charger can quickly bring your vehicle's battery up to a 90% charge by the following day, you may not need a 240-volt Level 2 charger. If you have a longer commute, multiple electric vehicles, or you plan to take occasional long trips, installing a home charging station can make life easier and help you avoid unnecessary stops at commercial charging stations. Talk to our experts at GAC Services if you are unsure if an EV charging station is right for you.
How much does an electric charging station cost?
With installation, EV charging stations can range from about $1,000 to $4,500, depending on the brand, features, installation costs, and more. If you are considering an EV charging station for your Maryland home, ask our team at GAC Services for an installation quote.
What does the warranty cover on a home charging station?
Typically, the warranty for a home charging station covers only the manufacturer's defects in the charger itself, not any damage that may occur to your vehicle due to its use or the installation. To get the best warranty protection for your EV charging station, it is best to choose a charging station from the vehicle's manufacturer or a reputable aftermarket supplier and to have it installed by a professional electrician, such as our team at GAC Services.
Can an EV charging station be installed outdoors?
Many home charging stations are designed for use indoors and outdoors. At GAC Services, we can provide the necessary circuits and wiring to install your EV charger inside or outside, and we can recommend the best solutions to keep it protected from the elements.
How fast is a Level 2 charging station?
A 240-volt Level 2 charging station can be 5 to 7 times faster than a Level 1 charging station, depending on the amperage it provides. Level 2 charging stations are typically available in 30- to 40-amp models. At GAC Services, we can install up to a 50-amp circuit to ensure you have enough power for all your current and future EV charging needs.
Join GAC's Prime Maintenance Membership
High-performance seasonal tune-ups
20% discount on heating and cooling services
10% off electrical repairs
Emergency service
Reduced diagnostic fee
And more!
Financing Options Available
At GAC, we understand how important a functioning HVAC system is for your home. This is why we offer flexible financing options to help you take care of your new HVAC purchase, so you can get back to taking care of what matters most to you.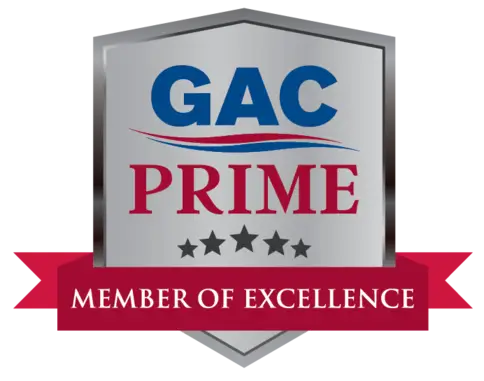 A well-maintained HVAC system can save you from having to invest in costly repairs down the road. Learn more about the priority maintenance services offered by GAC Services.