AC Repair, Installation, Replacement & Maintenance in Montgomery County, Frederick County, Howard County and Carroll County, MD
When you need a solution for keeping your home in Maryland cool and comfortable, trust the experts at GAC Services. Our factory-trained and nationally certified technicians are armed with the best products and can help you identify the most affordable and energy-efficient way to cool your home.
We provide the following services:
AC installation – Want to install an air conditioner in your home? Does your current AC unit need to be replaced? Our HVAC technicians can help you choose the best make and model air conditioning unit for your home without emptying your wallet.
AC repair – A broken air conditioner is never good news, especially when you need cool relief on a hot, muggy summer day. Let our licensed cooling professionals diagnose and repair your home's cooling system and restore comfort back to your home.
AC maintenance – Regular maintenance can help extend the lifespan of your air conditioner and increase your cooling system's efficiency.
Ready to schedule AC services for your home or office? Contact GAC! Give us a call at (240) 233-8498 or contact us online to schedule service.
Air Conditioning Installation
The most important day in your air conditioner's life is the day it's installed. The quality of your AC installation, especially how well it's sized, directly influences how well it will perform for years to come. Rather than deal with the cost and time it takes for frequent air conditioner repairs and early air conditioner replacement, let GAC Services install an efficient air conditioning unit in your Maryland home.
Air Conditioning Repair
When you need an AC repair, you need it quickly—that's why you have GAC Services. Our HVAC technicians can come out and assess your system and perform quick, reliable repairs so you can get back to enjoying a cool comfortable home.
Signs You Need AC Repair:
Your AC unit's airflow is weak
Your AC unit does not get cold enough
You hear strange noises coming from your AC unit
Your AC unit produces musty odors
You notice moisture around your AC unit
Your AC unit constantly turns on and off
If you experience any of these issues and need AC repair, the GAC Services team is ready to help. 
Air Conditioning Maintenance
Your air conditioner needs to be inspected regularly, meaning at least once a year. Generally, the best time for this is just before the start of the cooling season (the beginning of spring). Before you even start up your AC unit at the beginning of summer, you want to have your air conditioner completely checked out by trusted HVAC technicians.
Air conditioner maintenance helps:
Improve the lifespan of your air conditioner
Prevent breakdowns
Reduce the need for future repairs
Improve the energy efficiency of your cooling system
And more!
Heat Pumps—They Don't Just Heat!
As the cost of energy rises, GAC is more determined than ever to find ways to save you money on your energy bills. That's why when it comes to cooling AND heating your home, we can't say enough good things about a heat pump system.
Why purchase, install, repair, and maintain two HVAC systems when you can have it all with one convenient, energy-efficient unit? We service heat pumps.
Heat pumps work by transferring heat—out of your home in the summer and into your home in the winter—rather than by converting energy into heat. For this reason, if you currently heat and cool with electricity, a heat pump can save you as much as 30-40% on your energy bills.
Trusted Air Conditioning Services in the Gaithersburg Area
At GAC Services, we pride ourselves on being a friendly, honest, and professional HVAC contractor you can trust.
If you need air conditioner installation, repair, or maintenance in Frederick or Montgomery County, contact us online or call us at (240) 233-8498 today!
Frequently Asked Questions About Air Conditioners
[bc_accordion] [bc_card title="How Long Does An Air Conditioner Last?"]
With proper maintenance, a solid air conditioner will deliver reliable comfort for your family for around 15-20 years. As with all machines, the older your system, the more likely it will suffer breakdowns and require increasingly frequent repairs. As always, quality is always a key consideration, and we strongly recommend spending more on a quality air conditioner than saving money by purchasing a less reliable and less energy-efficient system.
[/bc_card][bc_card title="How Do You Properly Size An Air Conditioner?"]
As a general rule, you will need an air conditioner that delivers 20 Btu for every square foot of space you want to be cooled within the home. To calculate the size, you need to correctly calculate your home's cubic footage and factor in variables, including windows, window coverings, exterior landscaping, and insulation.
[/bc_card][bc_card title="Should You Set The Thermostat Fan To Auto or On?"]
This is a common question, and the answer is that the auto setting will keep your utility bills down because it only runs the fan in order to maintain the desired temperature setting. If you prefer uninterrupted airflow to control allergies, etc., then you will want to turn your thermostat fan to "on."
[/bc_card][bc_card title="Why Does My Air Conditioner Freeze Up?"]
Air conditioners can freeze for a wide number of reasons. You may have a blocked air filter, or you may have a damaged fan. Other causes include low refrigerant levels, damaged or dirty evaporator coils, or a problem with your blower motor or the relay. Our certified HVAC technicians can help you identify the cause and apply the appropriate repair solution.
[/bc_card][bc_card title="Do You Need To Cover An Air Conditioner In Winter?"]
This won't necessarily hurt your air conditioner, but it is not entirely necessary, either. If you cover your air conditioner and it turns on before the covering is removed, it can cause significant damage to the unit. For this reason, we generally recommend not covering your air conditioner over the winter.
[/bc_card][bc_card title="Will An Air Conditioner Help Control Indoor Humidity?"]
Air conditioners will help control indoor humidity levels. However, they are not the best solution if you want to maintain the ideal humidity. If your goal is to keep humidity down and curb the growth of mold and mildew, we recommend installing a much more efficient and effective dehumidifier.
[/bc_card][/bc_accordion]
Do you still have questions about your air conditioning systems? Contact the team at GAC Services at (240) 233-8498. We will give you the answers you need to make the best decisions for your comfort.
The GAC Difference
"What do our customers want?" That's the question that's been driving the way we do business at GAC from the very beginning—back when you might have known us as Gaithersburg Air Conditioning & Heating!
While our name may have changed, the way we do business hasn't.
Up-front pricing. 100% satisfaction guarantee. On-time service. Factory trained and nationally certified technicians. Respect for your home.
These are just a few reasons why your neighbors love working with GAC. It is this commitment to excellence, along with our friendly and honest professionals that has helped us satisfy tens of thousands of customers throughout Maryland over the years. And it is this that we consider the GAC difference.
Contact us for a free replacement estimate on a new cooling system or to schedule service today.
Join GAC's Prime Maintenance Membership
High-performance seasonal tune-ups
20% discount on heating and cooling services
10% off electrical repairs
Emergency service
Reduced diagnostic fee
And more!
Financing Options Available
At GAC, we understand how important a functioning HVAC system is for your home. This is why we offer flexible financing options to help you take care of your new HVAC purchase, so you can get back to taking care of what matters most to you.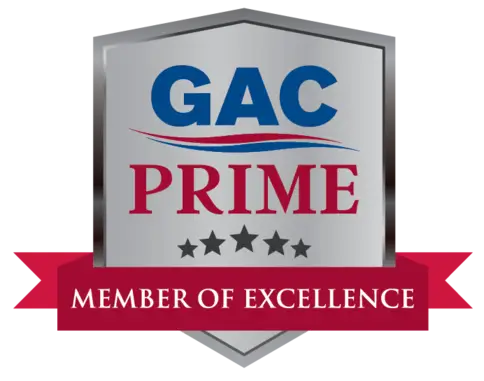 A well-maintained HVAC system can save you from having to invest in costly repairs down the road. Learn more about the priority maintenance services offered by GAC Services.