Generator Installation & Services in Gaithersburg & Surrounding Maryland Areas
The generator in your Gaithersburg home plays a pivotal role in keeping your home safe, secure, and functional in the event of an outage. That means the generator must be reliable and always ready to perform. That's why the home service specialists at GAC Services offer only the absolute best in whole-home and portable generator solutions—generators from Generac.
Our team is dedicated to offering clients the thorough and top-quality services they deserve. For decades we've been the folks you can turn to for HVAC, electrical, and home power solutions. When you want services you can trust from a team that offers only the best, you want GAC Services on your side.
For Generac home generator solutions in Frederick, Montgomery, and Howard Counties contact GAC Services! You can reach us online any time, or feel free to dial (240) 233-8498 to speak with a generator specialist now!
Why Choose Generac?
Generac Power Systems has been around for nearly sixty years. In that time they've become a household name for superior and reliable generator products, offering consumers a versatile array of products to suit any need or situation. Whether you're looking for a small portable solution for simple powering on the go or in a pinch, or a whole-home system that can keep your home running at 100% at all times, they've got the solution for you.
For our team choosing Generac isn't even a question. We're dedicated to offering our clients the absolute best in all regards, from services to products. And by choosing Generac for our clients we can ensure total satisfaction with a product built to perform and endure.
GAC Services Specializes in Generac Installations & Maintenance
If you're looking for a portable or whole-home generator system in Maryland, you need look no further. Our electricians carry extensive experience and specific training when it comes to servicing Generac brand generator systems! Our team will expertly assess your needs, helping you choose the ideal option for cost-effectiveness and reliable power solutions.
And we can even do one better! Our specialists can help keep your Generac generator working at peak condition for years to come, offering extensive and thorough maintenance services. Yearly Generac generator maintenance includes:
Replacement parts when needed
Battery checks
Electrical connection calibrating and tightening
Fuel and filter changes
Load bank tests
And more
The Benefits of Generac Generators
Why choose a Generac brand generator for your home or business in Gaithersburg? It's all in the perks of course, and Generac offers many:
Reliability. Generac isn't at the top of the industry for no reason! Generac generators are built to perform and to last, helping you stay secure in your home for years to come.
Solid warranties. Generac offers extensive warranties for generators that receive routine maintenance services, so you know you've got a product you can trust.
Fuel options. Choose between propane or natural gas according to availability and personal preference.
Versatile generator solutions. Generac offers generators in a wide array of sizes, everything from small portable units to simply keep lights or a fridge running, all the way to systems that can power an entire home without any trouble at all.
Automatic transfer availability. Automatic transfer switches will instantly swap over your home from utility power to your home generator without so much as a blink, making accessing generator power quick and safe.
Transfer Switch for Your Portable Generators
A transfer switch allows you to connect a portable generator to your household circuit breaker. It makes it possible to power all critical appliances permanently connected to your house grid. It is the best solution that follows all building codes and safety measures.
Backup Generators for Whole-House Purposes
A permanently installed Generac whole-home backup generator protects your home automatically. It runs on natural gas or liquid propane (LP) fuel, and it sits outside just like a central air conditioning unit.
Learn more about Generac whole-house generators.
How Does a Generac Home Backup Generator Work?
Generac's home backup generators, also known as standby generators, are a permanent solution to power outages. When the power fails, your generator starts and automatically supplies electricity to your home. Generac home generators run off your natural gas or liquid propane supply, so you don't need a separate fuel supply. For safety reasons, we install generators on a concrete plinth outside your home.
How Do I Choose the Right Generator?
The first step is deciding the size generator you require. This depends on whether you want to supply power to the entire house or only to essential circuits. We can supply multiple circuit transfer panels to power those circuits you need or whole-home generator transfer switches. Our experienced team can assess your needs and help you choose the best configuration for your home.
What's Involved With Installing a Home Backup Generator?
The first step is to prepare a foundation for the Generac generator at a convenient spot outside your home, where we install the generator and its durable aluminum housing. Our licensed electricians then run a power supply to your utility box and install the transfer switch according to codes for Howard, Montgomery or Frederick Counties. We also run a supply line from your natural gas or LPG supply. We test the generator, making certain it starts reliably and powers everything in your home.
Why Install a Standby Generator?
Power outages are a common occurrence throughout most of Maryland. Reasons include high winds, storms and adverse winter weather. Although many outages are short, it's not uncommon for some residents to be without power for a day or more.
Unlike portable generators, which can power a few appliances at the most, whole home generators provide the backup power you need to power your lights, refrigerator, air conditioning and heating. That's why Generac generator installation is one of our most popular services!
Importance of Professional Generator Maintenance
Just like a car, your generator needs regular maintenance. Typical services carried out by our technicians include topping up oil, cleaning filters, checking spark plugs, and performing battery maintenance. Without regular maintenance, it's more likely that your generator won't start when required or will fail prematurely. We also offer repair services for standby generators.
The GAC Difference
"What do our customers want?" That's the question that's been driving the way we do business at GAC from the very beginning—back when you might have known us as Gaithersburg Air Conditioning & Heating! While our name may have changed, the way we do business hasn't.
Up-front pricing. 100% satisfaction guarantee. On-time service. Factory trained and nationally certified technicians. Respect for your home.
These are just a few reasons why your neighbors love working with GAC. It is this commitment to excellence, along with our friendly and honest professionals that has helped us satisfy tens of thousands of customers throughout Maryland over the years. And it is this that we consider the GAC difference. Contact us to schedule service today. We provide generator services in Frederick, Gaithersburg, and surrounding areas in Maryland. We're looking forward to serving you and hopefully making you a customer for life! We proudly serve the following locations in Maryland: Montgomery County: Ashton, Barnesville, Beallsville, Bethesda, Boyds, Brinklow, Brookeville, Burtonsville, Cabin John, Chevy Chase, Clarksburg, Damascus, Derwood, Dickerson, Gaithersburg, Garrett Park, Germantown, Glen Echo, Kensington, Laytonsville, Montgomery Village, Olney, Takoma Park, Poolesville, Potomac, Rockville, Silver Spring, Spencerville, Washington Grove Howard County: Clarksville, Columbia, Cooksville, Dayton, Ellicott City, Fulton, Glenelg, Highland, Woodbine Frederick County: Adamstown, Braddock Heights, Buckeystown, Frederick, Ijamsville, Middletown, Monrovia, Mt. Airy, New Market, Urbana
Join GAC's Prime Maintenance Membership
High-performance seasonal tune-ups
20% discount on heating and cooling services
10% off electrical repairs
Emergency service
Reduced diagnostic fee
And more!
Financing Options Available
At GAC, we understand how important a functioning HVAC system is for your home. This is why we offer flexible financing options to help you take care of your new HVAC purchase, so you can get back to taking care of what matters most to you.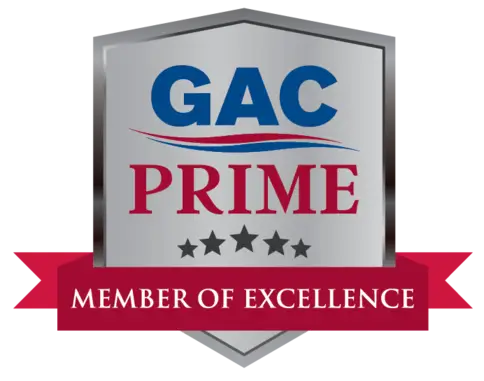 A well-maintained HVAC system can save you from having to invest in costly repairs down the road. Learn more about the priority maintenance services offered by GAC Services.