We're setting new standards in the Maryland HVAC and electrical market one home at a time!
Whether you're looking for HVAC or electrical service in Columbia, you're guaranteed on-time service, 100% satisfaction, upfront pricing, and respect for your home when you call the experts at GAC Services.
Ready to schedule service? Contact us online today to schedule HVAC or electrical services in Columbia!
Budget-Friendly Air Conditioning Repair & Installs in Columbia
Since our doors opened in 1970, we've been keeping our customers cool with air conditioning services. Whether you're looking for prompt air conditioning repair in Columbia, MD or need to upgrade from your flimsy window unit to a central air conditioner, our NATE-certified technicians are experts in all AC makes and models.
We sell, install, repair, and maintain the following cooling equipment:
Contact us today for reliable HVAC services in Columbia, MD, and see why your neighbors have been trusting us since 1970 with their heating and cooling needs.
AC Installation and Replacement in Columbia
When it's time for your air conditioner to be replaced, you can trust the team at GAC Services to help. We provide homeowners in Columbia with air conditioning installation and replacement services. GAC Services will help you select the right air conditioner that is properly sized for your home and budget, then we will install it professionally to ensure it is functioning efficiently. 
There are many benefits to upgrading your cooling system, including:
Increased comfort – You deserve to be comfortable when you enter your home, after all, it is your home! An old air conditioner may not provide the comfort you're looking for. A new air conditioner can provide a cool relief to the hot, humid days Maryland homeowners are accustomed to.
Increased energy efficiency – One sign it may be time to install a new air conditioner in your home is increased utility costs. New, energy-efficient AC units can provide increased comfort while lowering your energy bills.
Proper sizing – Even if your old air conditioner is not failing, high energy bills and low cooling capacity could indicate that it isn't sized properly for your home. An air conditioner that is too small or too large for your home won't cool your space efficiently. It also costs more to operate because your AC must work harder to achieve indoor comfort. An improperly sized AC unit is also more likely to break under this added stress, requiring more frequent air conditioning repairs and costing you more money.
Schedule air conditioning replacement or air conditioning installation in Columbia by calling GAC Services at (240) 233-8498 or by contacting us online for help.
Air Conditioning Repair in Columbia
In addition to air conditioning replacement, our team in Columbia offers air conditioning repair services. We can assist you in finding the root cause of your air conditioning need, so we can accurately repair it and get your home back to feeling cool again. If your air conditioner isn't properly cooling your home, let our team of qualified AC technicians repair it for you.
Schedule AC repair today by contacting GAC Services at (240) 233-8498.
Signs You Need Air Conditioning Repair
Getting prompt repair for your air conditioner is key to protecting your family and your comfort. Thankfully, there are often signs that your air conditioner needs to be repaired that happen before the system breaks down completely. Here are some common signs to look for to determine if you should call GAC Services for AC repair:
Your air conditioner doesn't cycle on or off. Air conditioners are a significant investment in your Maryland home. It's best to leave any repairs or maintenance to a licensed HVAC professional, like us!
Your energy bills have increased. If you notice your energy bills are higher than usual, it could be a sign that your air conditioner is working for longer periods of time as an attempt to cool your home—often the result of a broken system.
Your registers are dispensing warm or hot air. If you notice your registers dispensing warm or hot air into a room, it could be the result of a clogged air filter, an issue with its condenser or compressor, or a refrigerant problem. To determine the exact cause, an HVAC professional should inspect your Maryland cooling system.
Your air conditioner makes loud or strange noises. The cause of your air conditioner making loud or strange noises can be a variety of issues—including its compressor, drive motor, fan blade, electrical connections, and more—and requires an HVAC technician to diagnose and repair.
Your air conditioner's coils are frozen. Often caused by a dirty AC filter, frozen air conditioner coils may be the result of a coolant leak.
Your air conditioner is leaking. Don't wait to call if your air conditioner is leaking fluid from the outdoor unit. If you notice your air conditioner is leaking moisture into your house, our friendly technician will inspect your condensation pan and drainage pipes to clean or replace them if necessary. Moisture in your home caused by a broken AC exposes you and your family to mold, mildew, and/or water damage.
You notice inconsistent temperatures in your home. Inconsistent temperatures are often the first sign of a broken air conditioner. If you notice some rooms are warmer than others or significant temperature changes within your household, contact a cooling professional.
If you are noticing these problems, call (240) 233-8498 for Columbia, MD air conditioning repair from a family-owned and operated local company.
Air Conditioner Maintenance & Tune-Up Service
One of the best ways to avoid the need for AC repair is with proper maintenance. If your system is maintained annually by a qualified HVAC technician, you have a far lower risk of a breakdown. At a maintenance appointment, your technician will check your system thoroughly for any signs of a breakdown, giving you the chance to address these issues before you have a problem. You will also have your system cleaned and optimized, giving you greater function throughout the cooling season.
Air conditioner maintenance helps:
Improve the life span of your air conditioner
Prevent breakdowns
Reduce the need for future repairs
Improve the energy efficiency of your cooling system
And more!
If you are in need of an AC maintenance check in Columbia, make an appointment by calling GAC Services at (240) 233-8498.
Need a Heating Contractor in Columbia?
When you need solutions for keeping your home warm and comfortable, trust the experts at GAC Services. Our factory-trained and nationally certified technicians are armed with the best products and can help you identify the most affordable and energy-efficient way to heat your home.
We sell, install, repair, and service the following heating systems:
For affordable heating equipment installed and repaired by Columbia's top technicians, contact the experts at GAC Services today.
Electrical Services in Columbia
Our electrical services in Columbia include:
Circuit breaker services, including heavy-ups and panel upgrades
Portable generator services, including transfer panels
Attic and gable fan installations and repairs
Recessed lighting using LED lamps for energy savings
Network wiring, including Cat 6 Ethernet wiring
Outlet replacements, including GFCI outlets and USB outlet combinations for charging your phone or other devices
Smoke and carbon monoxide detector installations and upgrades
Dedicated circuitry for appliances (both 120 and 240 volts), electric cars, hot tubs, HVAC wiring, etc.
If you have any sort of electrical problem, even one that's not listed here, our master electricians can fix it! Contact GAC Services today!
The GAC Difference
"What do our customers want?" That's the question that's been driving the way we do business at GAC  Services from the very beginning—back when you might have known us as Gaithersburg Air Conditioning & Heating!
While our name may have changed, the way we do business hasn't.
Upfront pricing. 100% satisfaction guarantee. On-time service. Factory trained and nationally certified technicians. Respect for your home.
These are just a few reasons why your neighbors consistently choose GAC Services as their trusted electrical and HVAC contractor. It is this commitment to excellence, along with our friendly and honest professionals, that has helped us satisfy tens of thousands of customers throughout Maryland over the years. And it is this that we consider the GAC Services difference.
Contact us for a free replacement estimate on a new installation or to schedule HVAC or electrical service in Columbia today!
Join GAC's Prime Maintenance Membership
High-performance seasonal tune-ups
20% discount on heating and cooling services
10% off electrical repairs
Emergency service
Reduced diagnostic fee
And more!
Financing Options Available
At GAC, we understand how important a functioning HVAC system is for your home. This is why we offer flexible financing options to help you take care of your new HVAC purchase, so you can get back to taking care of what matters most to you.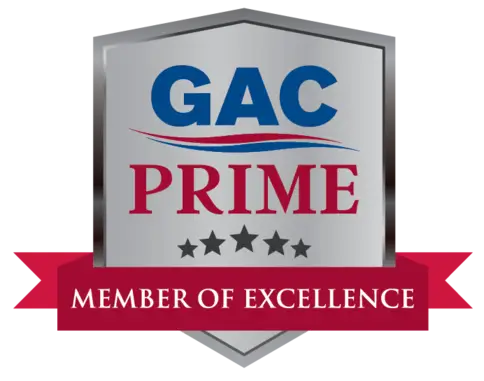 A well-maintained HVAC system can save you from having to invest in costly repairs down the road. Learn more about the priority maintenance services offered by GAC Services.