Montgomery County, Howard County & Frederick County Electricians
In the Gaithersburg and Frederick, MD areas, homeowners are choosing to install outdoor lighting to increase their homes' aesthetics, safety, and property value. Professionally designed outdoor lighting can add a uniqueness to your home that simply can't be matched by your neighbors.
We offer estimates for outdoor lighting installation in Maryland, and our electricians will design a low-voltage outdoor lighting system specifically for your home. Contact us to request an estimate!
Custom-Designed Landscape Lighting in Potomac, MD
Outdoor lighting—also known as "landscape lighting"—is not a DIY project for every homeowner. There are many technical processes that cannot be overlooked when designing and installing your landscape lighting, so it's best to leave the job to a professional.
At GAC Services, we'll send an electrician to your home to meet with you about the goals you have for your outdoor lighting project. Our landscape lighting design process includes four easy steps:
Consultation – We'll send one of our electricians to your home to discuss the entire project with you. Whether your goal is to install an outdoor lighting system to illuminate a gorgeous back patio to host family and friends on summer evenings, light up your home's exterior for everyone to see, or simply add security to your property, we can help!
Design – After we listen to your needs, we'll design a low-voltage outdoor lighting system that adds not only aesthetic appeal but also security to your home.
Approval – We want to make sure you are satisfied with what we drew up. The third step in our outdoor lighting process is getting approval for our design!
Install your landscape lights – Lastly, we'll install your landscape lights exactly as planned!
Why Install an Outdoor Lighting System in Maryland?
Outdoor lighting provides many benefits to your Maryland home. Whether you live in our hometown of Gaithersburg, one of our more northern service areas like Middletown or Frederick, or south in Silver Spring, you can install outdoor lighting in your home.
Benefits of outdoor lighting include:
Improved safety. You no longer have to worry about tripping over a hose or blindly walking down your driveway to take the trash out. An outdoor lighting system will illuminate your home and your yard so you can navigate freely!
Unique aesthetics. Did you know that a well-designed outdoor lighting system can make your home appear larger and grander? Impress your neighbors and provide a unique design for your home, all with new landscape lighting!
Added home value. Since an outdoor lighting system helps deter thieves from entering your home and improves the overall safety both inside and out, the value of your home increases in case you ever choose to move.
Increased security. Illuminate your yard to keep burglars from entering your home.
Added comfort and peace of mind. You can rest easy at night knowing your home is illuminated. Whether you're on vacation for a week or simply heading to bed for the night, let your outdoor lighting help you catch a little R&R.
Improved curb appeal. Outdoor lighting makes any passerby appreciate the look of your property.
And much, much more!
Ready to get started on adding outdoor lighting to your Maryland home? Give the experts at GAC a call by dialing (240) 233-8498 or by contacting us online today!
Why Choose GAC Services to Install Landscape Lighting?
At GAC Services, our licensed electricians are trained to design and install a custom landscape lighting system in any home. We always put our customers first, which is why we'll work with you to design a system that exceeds your expectations.
We specialize in home electrical installations and will install energy-efficient landscape lighting you can enjoy any time of the year—spring, summer, fall, and winter alike.
Ready to get started? Give us a call or contact us online to schedule an estimate for outdoor lighting installation in Maryland. We're the area's trusted exterior lighting installers and look forward to helping you with your landscape lighting project!
Outdoor Lighting FAQs
How can I improve my outdoor lighting?
Here are some ways to improve your outdoor lighting:
Choose the lights that will best accentuate your outdoor setting
Use entry and pathway lights
Incorporate hanging fixtures
Include recessed and step lights
For safety, install motion-sensor lights
For a touch of technology, use lighting controls and timers
What is the best outdoor lighting?
Top outdoor lighting options include:
Sengled Smart LED PAR38 Bulb (outdoor smart bulb)
Ring Solar Pathlight (used for lighting walkways)
Philips Hue White and Color Ambiance Calla Bollard (used for outdoor ambiance)
What is the best wattage for outdoor lighting?
The best wattage for outdoor lights is 80 watts or lower.
Are outdoor lights weatherproof?
Outdoor lighting fixtures are designed to be weatherproof, but they're not indestructible.
Join GAC's Prime Maintenance Membership
High-performance seasonal tune-ups
20% discount on heating and cooling services
10% off electrical repairs
Emergency service
Reduced diagnostic fee
And more!
Financing Options Available
At GAC, we understand how important a functioning HVAC system is for your home. This is why we offer flexible financing options to help you take care of your new HVAC purchase, so you can get back to taking care of what matters most to you.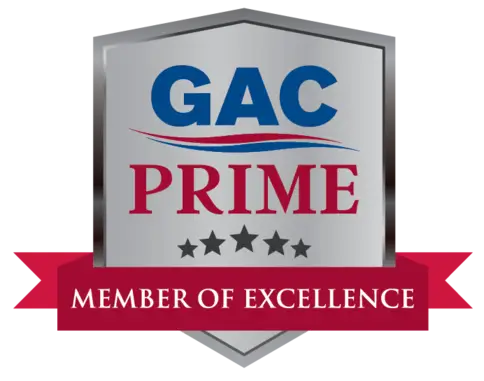 A well-maintained HVAC system can save you from having to invest in costly repairs down the road. Learn more about the priority maintenance services offered by GAC Services.